Cars for a Cause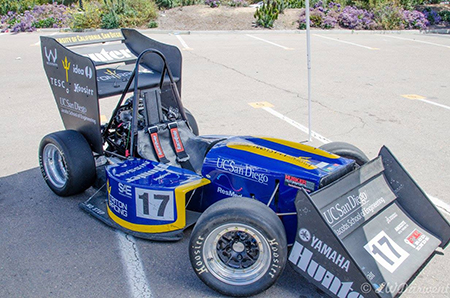 Triton Car and Motorcycle Show supports university food pantry
Jeff Scruggs, a police officer at UC San Diego, was determined to pair his enthusiasm for automobiles with his commitment to the campus he protects. After attending a car show fundraiser at his children's high school, Scruggs was inspired to create a similar event to benefit the university. But it wasn't until he received an email from Associated Students seeking donations to the Triton Food Pantry, that he knew he'd found his campus cause. The Triton Food Pantry is a student-run organization established last year to provide healthy meals for UC San Diego students in need.
"When I saw the email, I knew that was it," Scruggs recalled. "So I reached out to AS and told them of my plan. They were very excited, so we began working together to create the event."
Their combined efforts eventually led to the first ever "Triton Car and Motorcycle Show," which was held on campus last spring.  The event–open to the public—brought together car veterans, police officers, members of the Triton Racing Team and campus car club Imports@UCSD as well as other UC San Diego students and community members to raise money for the Triton Food Pantry.
In total, the Triton Car and Motorcycle Show raised approximately $1,500 for the pantry, which was used to buy fresh produce from a local farm. 
"The Triton Food Pantry provides food to students in need, ensuring they have enough energy to get through the day," explained Hayley Weddle, Associated Students Advisor. "Proceeds from this event enabled us to give students access to balanced, healthy food that might otherwise be difficult to get." 
According to Weddle, approximately one fifth of UC San Diego students face food insecurity, which means they don't have consistent access to affordable, nutritious food. Though non-perishable foods are often more readily available to students struggling with unstable financial circumstances, perishable items that contain essential nutrients, such as produce, are typically more expensive to purchase.
Scruggs was very pleased with the way the event turned out, saying it became more than a fundraiser by bringing together groups of all ages for a common goal.
"This really evolved into more of a community outreach event," explained Scruggs. "Young students mingled with car veterans and officers, discussing their interests and forging new relationships. It was great to see."
Weddle agreed that the event had a positive impact beyond raising food for the pantry.
"This was a great opportunity for students to work with one another and collaborate with police," she said. "We'd love the opportunity to work with the police again next year."
Scruggs says AS will get that chance, as he plans on bringing the show back next spring.
"I want to make this an annual event to help raise money for the Triton Food Pantry as well as other AS programs," he said. "I hope it will inspire others to support the UC San Diego community, just as I was inspired."
For photos from the 2016 Triton Car and Motorcycle Show and updates on the next one, check out Facebook.