Clearing Out the Clutter
Bike Abatement Program a Success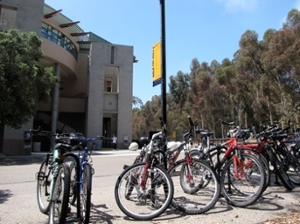 It happens every school year. Bikes that are no longer needed are routinely abandoned on campus, cluttering up bike racks and creating problems for students, staff and faculty who still use their bikes to get around campus but have no place to lock them up.
With just one bicycle enforcement officer on the UC San Diego Police Department, gathering up the abandoned bikes can present a challenge. This summer, however, the department tried something different. At the suggestion of Sergeant Manuel "Nel" Garcia, who oversees the Community Service Officer Program, CSOs began assisting Officer Ian Happle with bike abatement. The team fanned out across campus dutifully tagging bikes with warnings: If the bikes were not removed by the owners within two weeks from the date on the warning, the bikes would be removed and stored by UC San Diego Police.
"Every bike was documented, and every bike owner who licensed their bike was contacted as a courtesy to notify them of the abatement efforts," said Garcia.
The result of those efforts? Some 740 bikes were collected, freeing up a significant amount of bike rack space on campus. The collected bikes are being held by police for 90 days, after which any unclaimed bikes will be donated or disposed of. Owners who would like to claim a collected bike should visit the police station Monday through Friday between 1 to 3 p.m. and talk to one of the CSOs on duty.
"I've heard from students who were happy to be able to use racks that had formerly been filled up with abandoned bikes," said Garcia. "Since this worked so well, we'll continue using CSOs throughout the school year to maintain what we've started and help Officer Happle out with his efforts."
Also in the works is a plan to offer online bike registration, which does not currently exist at UC San Diego.
"Expanding our current licensing efforts might ultimately help reduce bike thefts on campus," said Garcia. "And reducing crime and keeping the campus safe is always our goal."
Visit the Bicycle and Skate Guidelines page for more information on how to register your bike, avoid citation and prevent bicycle theft.