Community Service Officer Earns Commendation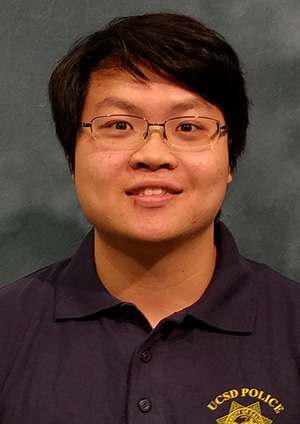 When a local community member found himself without oxygen recently he knew the situation was desperate. "I have severe lung disease," he said, "and require a high volume flow of supplemental oxygen." The oxygen is provided by portable, special compressed gas tanks, typically enabling him to go out and about without any issues. But, during a recent event on the Scripps Institution of Oceanography Pier, he found that the back-up tank he had with him was empty.
As his wife went to their car to get another backup, he walked slowly using special breathing methods to help compensate for the lack of oxygen.  Then, a team of Community Service Officers came along to assist with wrap up of the event. When he explained the situation to the CSOs, they acted quickly. CSO Eugene Huang was selected to run to the car, pick up the back-up oxygen and run it back to the pier. Due to Huang's quick actions, the medical emergency was successfully resolved.
Once he was safely at home, the gentleman sent a note to UC San Diego Police Chief Dave Rose, commending Huang for his efforts.
"I looked on your UCSD Police website and it states that in addition to serving as safety escorts, CSOs also '....Assist with medical emergencies...'" he wrote.  "Today, your CSO Eugene Huang demonstrated true commitment to the ideals of your department and I thought you would like to know how grateful my wife and I are for the service of this fine young man."