Call Boxes
The UC San Diego Police Department provides call boxes in many campus parking lots and structures for a direct line to request police assistance or a safety escort. Outdoor call boxes are blue towers with a blue strobe light.
Multiple broadcast towers,  labeled "EMERGENCY," are located at main pedestrian thoroughfares. These towers double as call boxes. To use, lift the handset and/or press the button and you'll be connected with police dispatch in 2-3 seconds. 
Emergency Phone 

Locations
Parking Lots and Structures
Athena Parking Structure – 13 locations
Campus Point Parking Structure – 16 locations
Campus Point Parking Structure East #1
Campus Point Parking Structure East #2
Faculty Club South
Gilman Parking Structure – 24 locations
Hopkins Parking Structure – 41 locations
P003 – Entry
P008 – Hubbs Conference Center
P010 – Martin Johnson House
P014 – West NOAA Fisheries
P016 – North Downwind Way
P017 – Birch Aquarium Expedition Way East
P101 – South 64 Degrees
P201 –  Scholars Lane
P303 – South
P384 – Gliderport North
P385 – South Sanford
P510 – North and South Voigt Drive
P602 – Entry
P603 – South Rita Pathway
P701 – Triton Stadium Entry
P704 – Health Sciences Drive
P781 – South and West La Jolla Institute for Immunology
P782 – North Entry and South
Scholars Parking Structure – 17 locations
Scripps Memorial Hospital South Parking
Seaweed Canyon Lot
South Parking Structure – 18 locations
Other Locations
Central Campus Station
Design and Innovation Building South Ground Level
Epstein Family Amphitheater
Faculty Club South
Franklin Antonio Hall Entry
Housing*Dining*Hospitality Administration Building Scholars Drive South
Hopkins and Northpoint Lane
Hopkins and Voigt Drive
I-5 Bike Path

Genessee Avenue
Voigt Drive

La Jolla Village Drive Bridge North
Marshall Field Scholars Drive North Bridge
MCTF Biological Grade
Mesa Pedestrian Bridge

East Miramar St.
West Medical Center Drive

North Torrey Pines Living and Learning Neighborhood

East Courtyard
West Courtyard

Par Exercise Station #13
Pepper Canyon Rim Pedestrian Path
Seventh East 1 Scholars Drive North
UC San Diego Health La Jolla Station

Ground Level East
Ground West
North Platform
Preuss
South Platform

Voigt Drive and Innovation Lane Roundabout
Warren Shuttle Stop 
Types of Emergency Phones
Suited for parking lots and structures, campus environments, biking/hiking trails, transit stations, offices, etc. Features:
Solar with battery back-up provides uninterrupted power
Highly visible constantly lit blue LED light on top of the tower for easy location
Illuminated faceplate when button is pressed
Call location identifier
Multi-button dialing


EMERGENCY: Emergency
INFO/HELP: Non-emergency calls usually relating to lost and found, directions, or questions

Self-diagnostic, alarm monitoring system firmware provides daily email reports on system operational status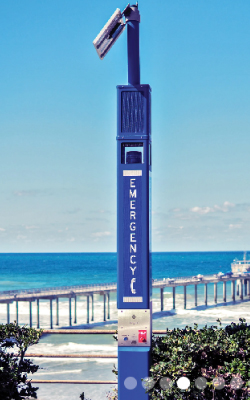 Ideal for remote and/or high-risk areas where wide-area audio broadcast is desired. Features:
Concealed high-power speakers provide 360-degree coverage
On-site announcement capability
Constantly illuminated LED blue light mounted atop unit flashes for duration of call when button is pressed
Constantly illuminated LED faceplate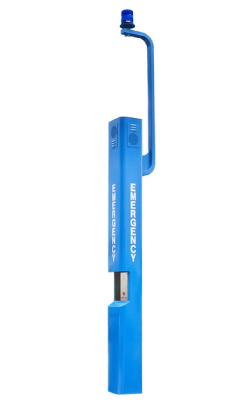 Suitable for mounting practically anywhere. Features:
Used for mass transit, high pedestrian pathways, door/gate entry 
Constantly illuminated LED faceplate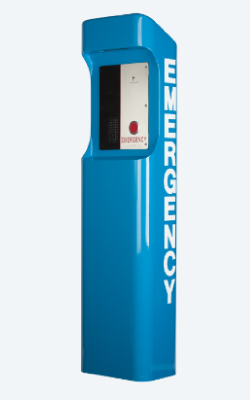 Broadcast Tower Locations (map)
Library Walk

Outside Student Health
Outside Center Hall

Nuevo East

Outside Exchange
Outside Astilla
Outside Piedra
Outside Capa

Nuevo West

Outside Arena on walking path
Outside Artesa on walking path
Outside Cala on walking path

Peterson Hill – outside Cognitive Science
Ridge Walk

Outside Muir Uppers
Outside RIMAC Arena
Outside Biology
Outside Bonner Hall

School of Medicine

Outside Biomedical Library
Outside Stein Clinical Research

SIO – outside Ritter Hall
Sixth College – outside Sixth Residential Halls
Warren Mall – outside CMRR
Device Not Working?
If you see a broken device, please submit a Security System Trouble Report.